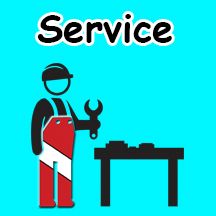 Scuba Views is proud to offer in house regulator, tank, and equipment service for most manufacturers. In house means:
You are talking and dealing directly with the technician responsible for your service.
There is no middle man when it comes to the status of your regulator or equipment.
In most cases in house service means a faster turn around time.


Regulator annual service:
Labor: per stage.
Parts: Prices for parts vary depending on manufacturer and warranties they provide, and type of service needed.
Scuba cylinder service:
Visual inspection: (Due once a year)
*Hydro inspection: most cylinders (Due every 5 years.)